Look, a circle!
Three nights knitting gets you this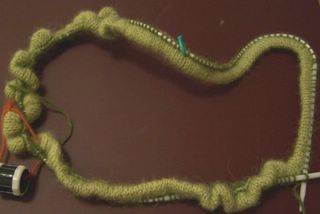 It's round...ooooooo....

270 sts on size 4 needles. What was I thinking!?!
Yes, this is the Obsession Union Square Market Sweater. Finally.
I have my first pairs of Bryspun Circular needles. They are great with the yarn I'm using, since I was splitting it before. The alpaca isn't very tightly spun. The flex in the needles is great. The only problem with them is that the join snags stitches like a bear. For this yarn it's worth having to poke the stitches over the join now and then. It's easier then splitting for me, but I can see this becoming very annoying to other knitters. Bryspun, please fix the join! :(
On a happier note, I just had a yarn ordering frenzy. I have birthday money to spend and a SP to spoil! I did get myself a Lantern moon basket and The Knitting Marvelous Mittens book. I plan to make myself a whole wardrobe of fancy fair isle mittens. It will keep me from going blind from the size 4 needles project above. :P I got some yarn too, some for the mittens I mention, some things for xmas gifts, and other goodies for my SP. I'm going to go to Stitches in a month and have nothing that I need to buy!
Speaking of SP, my upstream pal is pretty cool! S/he has sent me a e-card, nice note and is stalking my blog. Thanks for the love SP!