SP Box!!
I got a nice box from my SP!!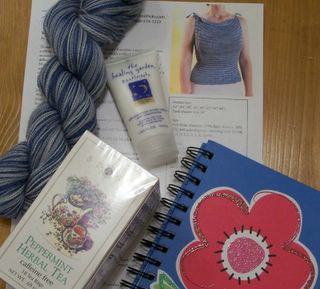 SP5 goodies!

I got a pattern and yarn from knitpicks I've been coveting. I have to resist the urge to start it now.
She also sent me a box of Stash tea. Stash is my favorite tea brand, my SP is gifted with ESP!
Also included was a yummy Avon hand lotion (in a handy purse size) and a nice journal.
Thanks SP! You really rock!!!!