Happy Thanksgiving!
Happy thanksgiving to everyone! Thanks to the FOUR families that fed Flint and I over the last 10 days or so. We where invited to several thanksgiving parties and I didn't even have to cook this year! What great friends and family we have!
This weekend I got my last package from my SP.
There are FIVE skeins of alpaca that will end up in the dyepot (once my microwave is fixed). A fancy set of stitch markers, a set of plain marker rings (good for lace), a bottle of wool wash, point protecors, some herbal cuticle cream, CHOCOLATE and a twinkie the kid! What a great SP I had this round- I'm sad it's over already!!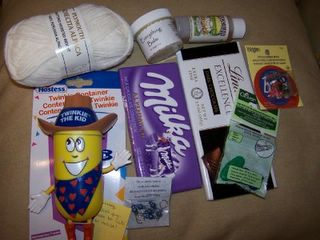 SP5 goodies